Philatelic Society of Lancaster County
---
Study Groups
In the spirit of sharing and at the core of our mission, the Philatelic Society of Lancaster County is pleased to host this page for our regional Study Groups who elect to have the PSLC promote their efforts. The first such group is The Philatelic Gathering, of which our very own Dr. Charles J. DiComo, Lou DiFelice and Dick Colberg are charter members.
Contact Charles at charlesdicomo@gmail.com if you would like your Study Group spotlighted here.
---
---
The Philatelic Gathering
In January 2019, seventeen stamp and postal history collectors, researchers and historians convened at Bill and Patricia Schultz' home in West Chester, PA to discuss how "To Share our Love of Philately with Others". Also in attendance was Ellen E. Endslow, the Director of Collections/Curator from the Chester County Historical Society (CCHS). From this initial meeting, "The Philatelic Gathering" was formed to explore and share a myriad of topics. Meetings to be held on Saturdays from 10:00 AM to 12:00 PM at the CCHS. For more info and how to participate, contact Bill Schultz, bill@patriciaschultz.com or Dr. Charles J. DiComo, charlesdicomo@gmail.com.
2019 Schedule

225 N. High Street, West Chester PA, 19380. N.B.: after the meeting, whoever wants to join the group for a luncheon at a nearby restaurant in West Chester is welcome.
Date
Lead | Host
Description
July 20
Robert Rufe
Agenda: Alan Warren, RDP, "The U.S. 1933 Byrd Antarctic Issue: Production, First Day and Other Uses." and Richard Colberg, "Moline Plow Company Advertising Covers." AGENDA

###

August 17
TBD
Agenda to include multiple speakers: Ronald E. Majors on "Canada Mourning Covers, pre-1880"; If interested in presenting, contact us.

###

September 21
TBD
Agenda to include multiple speakers: Thomas Geiger on "U.S. Private Perforations"; If interested in presenting, contact us.

###

October 19
TBD
Agenda to include multiple speakers: Kean Spencer on "U.S. Possessions"; If interested in presenting, contact us.

###

November 16
TBD
Agenda to include multiple speakers: Richard Colberg on "Valuations & Appraisals"; If interested in presenting, contact us.

###
---
Topics for the First Three Years of Meetings
N.B. These topics are not cast in stone, but gives an initial place to begin our thinking and planning. As we check one off, we add one to the list… always keeping 27 ideas on the list.
1.  Past, Present & Future of Philately
2.  Why, Why Not Postal History?
3.  Paper Restoration and Why
4.  Use of Research Libraries (CCHS & American Philatelic Research Library [APRL])
5.  New, Older Exhibiting Techniques
6.  What About Philatelic Importance
7.  Collecting Topical & Thematic
8.  Postcard Collecting & Exhibiting
9.  Estate Valuation Concerns
10.  Why We Collect (Is it Genetics?)
11.  The Joys & Sorrows of Philately
12.  First Day Cover Collecting & Exhibiting
13.  My Favorite Cover and/or Stamp
14.  Tell A Philatelic (but) Brief Story
15.  The Collector, Dealer Relationships
16.  Writing Philatelic Articles
17.  Revenues & Back of the Book (BOB)
18.  The Bonds & Friendships of Philately
19.  Buying & Selling – Do's and Don'ts
20.  Postal Routes, Markings & Rates
21.  Transatlantic Mails
22.  Civil War & Patriotic Covers
23.  How Can We Help Each Other
24.  Errors, Freaks & Oddities (EFO)
25.  Forgeries & Expertization
26.  Selecting Subject to Exhibit
27.  What Societies Should I Join?
---
Archive & Photo Journal
2019-06-15: Our fourth Gathering was hosted by preeminent, award-winning postal historian Mark Schwartz. Dr. Charles J. DiComo read the website and membership report, while Alan Warren, recent Royal Fellow of Philately recipient, read the minutes from our May meeting. Mark then introduced our two speakers – whose biographies are nothing but exemplary. Dr. Gus Spector spoke first on "The Great Central Fair of 1864", while Edward Siskin followed with his presentation on "Free Franks" from all the signers of the Declaration of Independence. There was an excellent Q&A session, followed by a short open discussion by Bill Schultz on "Single vs. Multi-Frames Exhibiting" and the recent changes to the rules to allow for more open displays and exhibits. Agenda

HERE. Photo's/write-up: DiComo.

"Free Franks", by Edward & Jean Siskin, Released to Public Domain, 2019.


"The Great Central Fair", by Dr. Gus Spector, 2019.

###
2019-05-25: Our third Gathering was hosted by Dr. Charles J. DiComo, President of both the Philatelic Society of Lancaster County and Empire State Postal History Society, a USPCS Life Member and Editor-in-Chief of the Chairman's Chatter. Ellen E. Endslow opened the meeting to 20+ attendees by highlighting upcoming exhibits and events at the Chester County Historical Society. Kean Spencer then shared his complete collection of Canal Zone stamps and postal stationery in a 2 frame display, along with the dynamic history of the region and stamp production and delivery. Thomas Geiger then shared a PowerPoint presentation on his award-winning Exhibit of U.S. 1 Cent Franklin Scott #300, along with a 2 frame display – this was an era of change and experimentation and Scott #300 was a work horse. Bill Schultz ended the session with an open discussion on two new research projects, the preparing a census of the 6 1/4 "phantom" or "convenience" rate from the stampless era, along with the rare 16 1/2 rate (12 1/2 inland fee + 4 Ship Fee) from a nine year period in the 1790's. Bill distributed a few recently discovered examples and requested the attendees to share any they may possess. Agenda

HERE. Photo's/write-up: DiComo.

###
2019-04-27:
Noted postal historian, exhibitor, judge, and author Bill Schultz hosted our second Gathering, which included two diverse speakers: Dr. Paul Pitcher on the "Introduction to Aviation Pioneering on Postally Used Postcards"; and Bill Schultz' Single Frame Exhibit on "Fort Delaware POW Prison 1862-1865". This was followed by an open discussion on the "Importance in Collecting/Exhibiting." Agenda

HERE
. Write-up: DiComo.
###
2019-03-23:
Noted philatelist Kean Spencer hosted our inaugural meeting of The Philatelic Gathering. The agenda included three diverse speakers: Mark Schwartz on "Special Arrangement between the U.S. & Liverpool from 1843-1848"; Bill Schultz on "Dining Car Postcards"; and Vince Costello on "Fancy Cancels" along with 3 displays. Agenda

HERE
. Photo's/write-up: DiComo.
---
Article in the American Philatelist
In the May 2019 American Philatelist, Ken Martin, COO of the American Philatelic Society, penned an article mentioning our very own Bill Schultz and the formation and mission of our Philatelic Gathering. We thank Ken for the recognition in his Philatelic Happenings section of the AP! Click the image below to enlarge.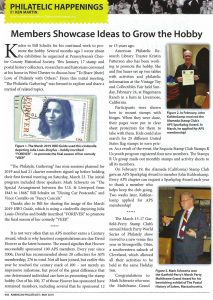 Those attending the Philatelic Gathering have shared that each meeting "…has been enlightening and inspiring, especially since there is such a range of interest and levels of expertise." Why not join us today?
---
Charter Members
The Charter Members of this group (order determined by lottery), with primary areas of oversight are as follows:
| | | | |
| --- | --- | --- | --- |
| # | NAME | E-Mail | Chair | Advisor | Consultant | Liaison |
| 1 | Dr. Paul Pitcher | pigdoc@kennett.net | Berks County and Railroads |
| 2 | Norm Shachat | nshachat@msn.com | Montgomery & Philadelphia Counties |
| 3 | Kean Spencer | keanwspencer@aol.com | U.S. Stamps |
| 4 | David Dewsnap | dgdewsnap@verizon.net | Stamp Collecting |
| 5 | Dr. Charles J. DiComo | charles.dicomo@gmail.com | U.S. Classics & Lancaster County |
| 6 | Pam Gray | pag172@aol.com | Chester County History & League of Women Voters |
| 7 | Bill Schultz | bill@patriciaschultz.com | Postal History & AAPE |
| 8 | Ellen E. Endslow | eendslow@chestercohistorical.org | CCHS Liaison |
| 9 | Al Kaufman | ekaufmann1@gmail.com | American History |
| 10 | Mark Schwartz | mark.schwartz1@verizon.net | APS & British/Colonial Postal History |
| 11 | Ron Majors | ronald.e.majors@gmail.com | Civil War & BNAPS |
| 12 | Robert Rufe | Rrufe1@aol.com | Area Stamp Clubs; United States Stamp Society |
| 13 | Dr. Gus Spector | gspec56@aol.com | Illustrated Mail & PA Postal History Society |
| 14 | Alan Warren | alanwar@comcast.net | Editorial, First Day Covers; AFDCS & Polar Society |
| 15 | John Howker | johnhowker@aol.com | Delaware & Northern Maryland |
| 16 | Vince Costello | vinman2119@aol.com | Fancy Cancels & Postal Markings |
| 17 | Michael Peich | mpeich12@gmail.com | Sports History & Baseball on Covers |
| 18 | Richard Colberg | appraisestamps@gmail.com | Lititz (PA.) PH, France & Canada RPO's, Baltimore Carrier Stamps |
| 19 | Dr. William J. DeWitt, III | Bill@DeWitt.com | Transportation on U.S. Stamps |
| 20 | Lou DiFelice | LouDiFelice@gmail.com | Classic U.S. Stamps & Postal History |
| 21 | Thomas Geiger, CFM | modlcitizn@aol.com | U.S. 1c Franklin Issue 1903 & N.J. Postcards |
| 22 | Hal Klein | HalKlein@comcast.net | U.S. Banknotes, Lebanon Co. PH, Overrun Countries & Prexies |
| 23 | Gene Fricks | GeneFricks@comcast.net | Advertising & Illustrated Mail, Direct Mail, PH of Portugal & Airmail Rates |
| 24 | Ed Siskin | JeanAndEd@comcast.net | Colonial Mail, 3c 1851 Issue, N.J. Free Franks & Postal History |
Invited Members
---