Philatelic Society of Lancaster County
---
Study Groups
In the spirit of sharing and at the core of our mission, the Philatelic Society of Lancaster County is pleased to host this page for our regional Study Groups who elect to have the PSLC promote their efforts. The first such group is The Philatelic Gathering, of which our very own Dr. Charles J. DiComo, Lou DiFelice and Dick Colberg are charter members. Contact Charles J. DiComo, PhD if you would like your Study Group spotlighted here.
---
---
The Philatelic Gathering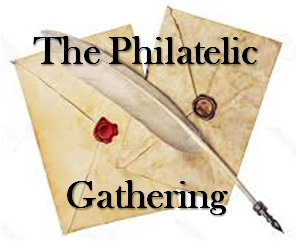 In January 2019, seventeen stamp and postal history collectors, researchers and historians convened at Bill and Patricia Schultz' home in West Chester, PA to discuss how "To Share our Love of Philately with Others". Also in attendance, Ellen E. Endslow, Director of Collections/Curator from the Chester County History Center. From this initial meeting, "The Philatelic Gathering" was formed to explore and share a myriad of topics. Meetings held Saturdays, 10:00 AM-12:00 PM at CCHS. For more info and to participate, contact Bill Schultz or Dr. Charles J. DiComo.
---
Our 2023 Philatelic Gatherings are underway. Below are our future speakers and their subjects. If you are interested in presenting, please reach out to Bill Schultz.
Chester County History Center, 225 N. High Street, West Chester PA, 19380. Free on street parking and free coffee and donuts. N.B.: After the meeting, whoever wants to join the group for a Dutch treat luncheon at a nearby restaurant in West Chester is welcome.
Date
Lead | Host
Description
October 21
Bill Schultz
Speakers: Ron Majors, Cross Border Mail to Canada AND Lou Glasgow, Zeps Airmail Carriers

---

November 18
Bill Schultz
Speakers: Vince Costello, Christmas Seals, etc. AND Kean Spencer, Stamp Boxes

---
---
Archive & Photo Journal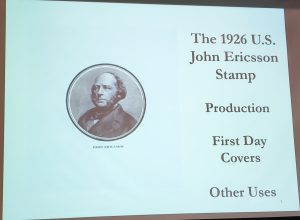 2023-09-16 Twelve members assembled to hear two interesting talks. New member Rick Leiby was introduced. Kean Spencer announced that Kevin Kellman and his K2 Stamp Mobile would be at our next meeting in October. Kevin has millions of stamps from all over the world. He cannot bring his entire stock, but you can let him know in advance what you are interested in – k2stamps@gmail.com. He also has some supplies such as glassines and stock cards. His Stamp Mobile will be parked in the alley next to the Chester County History Center (CCHC) and over the course of the program and even beyond 12 noon, 3 or 4 people at a time can take turns visiting the van.
The first speaker in September was Alan Warren who discussed the U.S. 1926 John Ericsson stamp (Scott 628). He showed essay photographs, die proofs, marginal markings including the initials of the siderographers and plate finishers, a wide variety of cachets and other FDCs. He finished up with uses of the stamp by varying mail services and to foreign destinations.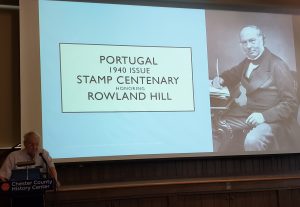 Steve Washburne focused on the 1940 Sir Rowland Hill commemorative set of seven stamps of Portugal marking the centenary of the famous inventor who introduced the concept of prepayment of postage with adhesives. He showed color trial proofs and explained the use of the different denominations for domestic and foreign letters, postcards, and printed matter. Many fascinating airmail uses and foreign destinations were seen including censored mail sent during the early 1940s.
Members then retired to the Iron Hill Brewery for lunch and to celebrate Tom Geiger's birthday.

###
2023-08-19 Seventeen gathered to hear two speakers. John Howker described U.S. airmail stamped envelopes, specifically the monoplane design used from 1923 to 1946. He discussed the transcontinental first flight as background and then focused on the monoplane envelope design with die proofs and watermark varieties. He also showed uses including survey flights, uses to the Far East, Europe, Zeppelin use, the concessionary military rate, the 1¢ surcharge for the increased rate in 1958, and Dorothy Knapp cacheted envelopes.

"Collecting U.S. Stamped Airmail Envelopes", by John Howker
Bill Schultz shared some pages of his exhibit on the enclosed 5-cent rate on stampless mail before the 1847s were issued. This was a narrow period of time, and he focused on the use of the figure "5" enclosed in circles, ovals, triangles, and boxes—nine types altogether. The handstamp's were made of rubber, wood, and brass. The rate was usually on a collect rather than prepaid basis

###
2023-07-15 We convened the Gathering promptly at 10:00 AM in the CCHC auditorium on N. High St., West Chester, PA, 19380. There were 20 attendees (+/-2). Coffee & donuts were provided by Bill Schultz.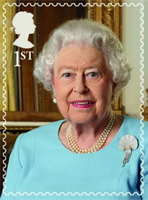 The first speaker of the two scheduled was Robert Myers of Spring City PA. Bob spoke for about 45 minutes on one of his favorite subjects: The late Queen Elizabeth. He gave a thorough understanding of her life and its relationship to postage stamps of the U.K. and the Commonwealth of Nations under her guidance for over 70 years. Enjoy his Three-Frame Exhibit entitled

Honoring Her Majesty Queen Elizabeth II, April 21, 1926 – September 8, 2022.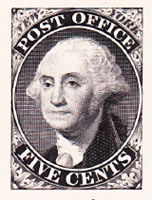 Our second speaker was the award-winning exhibitor Mark Schwartz of Philadelphia. Mark spoke for over one hour on the N.Y. Postmaster Provisional Issue and enthralled everyone with his breadth of knowledge on the subject. He shared with the Gathering an amazing display of one great example after example of one of the finest collections ever assembled on the subject. Enjoy his presentation entitled

The New York Postmaster Provisional Stamp of 1845.
Both speakers handled a number of questions from the attendees with aplomb. The Gathering adjourned at @11:55 AM for a tasty luncheon at the Iron Hill Brewery nearby in West Chester.

###
2023-06-17 What a great Father's Day and Philatelic Gathering. About 20 members gathered on June 17 at the Chester County History Center to hear three speakers.
Gus Spector's presentation was entitled

The Finley Acker Special Delivery Post. Gus started off with his description of the Acker Special Delivery of Philadelphia. He once bought a collection in a box and sometime later he began to look at the contents in detail. He discovered it was an accumulation of stamps, covers, postcards and advertisements pertaining to the Acker Special Delivery Service. In the 1870s, the Finley Acker department store opened in Philadelphia and finally closed its doors in 1920. One unusual service they offered was the local delivery of mail using their own stamps. He showed examples of the stamps as singles and multiples. There were three different types that were issued in a variety of shades and colors over the years. He also had examples on cards and covers. The mail was hand delivered, usually for a penny. Gus has written about the Acker delivery service in The Penny Post, journal of the Carriers and Locals Society. After the turn of the century, the U.S. government decreed that mail had to bear U.S. postage stamps, not just privately issued ones.
Kean Spencer presented a display of the stamps issued for the Philippines under U.S. administration. He built what is a nearly complete set of the stamps and postal stationery in just a few short years. He began with the U.S. Bureau issues overprinted PHILIPPINES followed by the definitives depicting José Rizal, the stamps of the 1920s and 30s, the COMMONWEALTH overprints, and the VICTORY overprints. Kean also showed the air post stamps, special delivery issues, postage dues and officials, post office seals, envelopes, wrappers, and postal cards, and Japanese occupation issues of the early 1940s. Some example pages of his collection were on display in the frames.
The final speaker was paper historian and author A.J. Valente, who drove all the way down from New Hampshire! He focused on the change in paper for the U.S. 1857 issue. Toppan and Carpenter evaluated handmade paper by Willcox vs. that made by machine by the Crane Paper Company. Using Crane correspondence, the Arthur M. Travers Papers and other sources, Valente described the production testing in 1858 and compared the pros and cons of the two manufacturers with respect to rag content, shrinkage, impression quality, and cost. Enjoy his presentation

U.S. 1857 Issue: Paper Changes of 1859.
Following the presentations, some of the group retired to the Iron Hill Brewery restaurant for lunch. Looking forward to seeing you all in July.
###
2023-05-20 Thirteen philatelists gathered at the Chester County History Center (CCHC) in West Chester, PA to hear two outstanding presentations.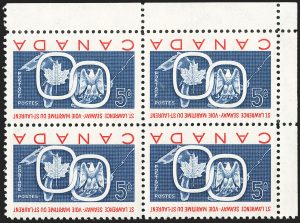 Ron Majors led off with an informative discussion entitled

"Canada-U.S. St. Lawrence Seaway: Its Commemorative Stamps and Major Varieties". The stamp, issued in 1959, marked the opening of the Seaway and was a joint issue with a similar stamp of the United States. Using material from his own collection along with the definitive reference book on the subject – Charles Verge's "The 1959 St. Lawrence Seaway Joint Issue and its Invert," Ron explained how it was printed and showed examples of the invert on and off cover as well as with kiss-prints.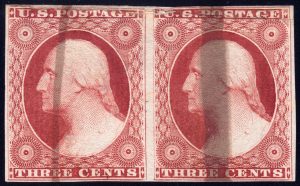 Dr. Charles J. DiComo followed up with a research study entitled

"The Development of Perforations on U.S. Postage Stamps by Toppan, Carpenter, Casilear & Company: 1855-1857". Charles revisited the events preceding the purchase of the perforating machine by Toppan, Carpenter & Co. (TCC); review the inventors of the rotary perforating machine and the rouletting trial period by TCC with Perkins, Bacon and Bemrose in England; the conversion to a perforator by TCC, and the issuance of perforated 3¢ stamps in February 1857. Research determined that examples of the stamp with a vertical line that looks like it was made with a felt-tip marker, are in fact proofs utilized during the perforation trials. The proofs are also on a thinner paper that distinguishes them from normal stamps. Charles' never-ending research has been in progress for decades and is in tribute to his mentor W. Wilson Hulme, who pioneered this area and passed along his database and unpublished research prior to his passing.
###
2023-04-15 "You've Never Seen This Before!" Nineteen members attended our Gathering, including three new ones. Members were invited to discuss an unusual item that was not likely to have been seen before, and to share it by passing the item around. These items included: New York Provisional covers; a way cover from Bahia, Brazil to Portugal; old printed matter examples from Canada; a photo postcard of Brown's Tennessee Rats baseball club; local stamps of Morocco; genuine and forged postal stationery of the 1876 Centennial; a 1941 "lost" letter from Spanish Morocco needed for a friend and for which there is a reward.
Other material included rarities related to the U.S. special handling stamps; Danish West Indies postal stationery; the Danish bicolor oval issue flaws; an 1833 stampless cover and a cover related to Joseph Steinmetz of Philadelphia; a South Carolina cover with Sc. #2; a Zeppelin around-the-world card; hand-painted cachets of Halvorsen; a 1748 free frank cover; and a "unique" cover showing a 6½ cent rate.
Still more unusual items included a 1766 bill of lading; progressive color proofs of foreign Christmas seals; UPU specimen stamps of the British Commonwealth; a piece of balloon mail from the 1870 siege of Paris; a zeppelin cover from Rio de Janeiro to England with a special stamp printed by Condor addressed to a family member; and a salvaged cover from the sinking of the S.S. Tahiti.
As a gesture to the club meeting at the Chester County History Center, the staff had a special display in their library of postally related items for members to view. Many members then retired to the Iron Hill Brewery for lunch. Kindly submitted by Alan Warren
Dr. Charles J. DiComo is pleased to share his presentation entitled

"The S.S. Tahiti: Her History, Her Sinking and a 'Salvaged' Cover".

###
2023-03-18 What an amazing feeling after three years to gather once more. Bill Schultz opened the session by welcoming back all attendees, thanking the Chester County History Center for their generous use of their facilities, and our speakers for agreeing to share their knowledge, expertise and love of stamps and postal history. Please reach out if you are interested in presenting.
Gus Spector led the session with a brief overview of

Philadelphia Hotel Markings on folded letters from the stampless era, many of which are quite rare, and a few were new to the existing census. A phenomenal journey through old Philadelphia City.
Next, Kean Spencer shared his most recent philatelic endeavor entitled Stamps of Puerto Rico, from Spanish Dominion through U.S. Possession. Kean showed a nearly complete collection from this country, along with revenues, postal stationery, postal cards and a number of rarities.

Finally, Dr. Charles J. DiComo rounded out the Gathering with an original research project entitled

The Providence, R.I. Pre-Mailing Control Marking on the U.S. 3 Cents 1851-57 Stamp. His re-discovery nearly two decades ago of a number of covers and adhesives led to a re-examination of what had previously been termed a "silent precancel" on the U.S. 3¢ stamp, 1851-57 Issue. The stamps have either a single horizontal and/or vertical ruled line (or both) in black pencil and/or red pencil (or both) spanning the stamp from edge to edge. An examination of over 700 Providence covers (and many more stamps) from 1851 through 1860 and the discovery of thirteen year-dated covers confirmed the period of use as April 1855 to October 1857. These control marked 3¢ stamps were post-cancelled with the Providence, RI CDS and accepted for postage at the Providence PO. Brown University appears to be a main "account" holder, with other prominent businesses and families partaking, e.g.: Corliss Steam Engine Co.; H.F. Walling Publishers; Comstock; et al. This original research and remarkable story of ingenuity at the Providence, RI Post Office was shared.

###
2020-01: The following document has been released to the public domain and is being shared by Ed Siskin. This collection was exhibited in various national stamp shows in the early 1980's and at AMERIPEX '86. The collection was sold in Superb Auctions dated April 29, 1989 & September 22, 1989. This exhibit focuses on the Washington-Franklin Series: 1908-1922, one of the most complex and fascinating series of stamp ever issued by the United States, boasting more than 210 major catalog listings. The exhibit shows the evolution of the series with select covers included to illustrate each change. Enjoy!
Washington-Franklin Series of 1908-1922, On Cover and Piece, by Ed Siskin, Released to the Public Domain.

###
2019-11-16: Twenty-two members and guests were in attendance for the final Gathering of the club's inaugural year. Alan Warren served as host. Dr. Charles DiComo spoke about the membership update and the list of 2020 meeting dates that are now posted on the website. Alan read the minutes of the October meeting that Jean Woods had recorded. Bill Schultz gave an update on donations.
The first speaker was Richard Colberg who described the anxiety that, both collectors as well as those who inherited collections and are not collectors, experience when they want to sell a collection—they feel that dealers and auction houses may take advantage of them. He listed steps that should be taken for disposal of collections that may be general or specialized, or beginner's type. He differentiated between catalog value and fair market value. Sales can be via collector-to-collector, club auctions, APS sales circuit books, dealers, auction houses, eBay or Delcampe online auctions, or APS StampStore. Appraisals are needed in general in order to take advantage for tax purposes.
Gene Fricks was the second speaker on "Direct Mail Promotion." This is the largest volume generated in the field of advertising. Early advertising was carried out with newsletters, newspapers, book lists, etc. Illustrated envelopes were then used to urge the recipient to open the envelope. Gene described the Mulready envelopes and use of woodcuts for early illustrated mail. These evolved into multi-color lithography, patriotic covers first used during the Civil War, and those bearing images of political candidates, farm equipment, tea companies, schools and colleges, etc. America adopted the technology developed in Germany for multicolored illustrations on advertising covers, followed by Canada and then the rest of the world. The phrase "Direct Mail Advertising" was introduced in 1905. Gene included an extensive bibliography of sources in this field. About 15 members then adjourned to the Iron Hill Brewery for lunch. Write-up: A. Warren; Photo's: Dr. DiComo. View the Agenda

HERE.


Direct Mail Promotion, by Gene Fricks (8MB).

###
2019-10-19: Our October meeting was hosted by Robert Rufe with 20+ members and guests present. Ellen Endslow of the CCHS reminded us to continue voting online for the opportunity to obtain funds to help the Society undertake much-needed roof repairs. Charles DiComo announced 34 members were in the Gathering and a new addition, Dr. Paul Petersen of the Philatelic Society of Lancaster County joined today, making the total 35. In Alan Warren's stead, Charles also read the minutes from the September 21 meeting. This was followed by our two excellent speakers, with Kean Spencer leading off with two frames of U.S. Possessions, including Puerto Rico, Cuba, Guam, Philippines, Hawaii, Ryukyu Islands and Canal Zone. Kean showed off many of the key stamps which completes these series. Next Robert Rufe walked us through a presentation (available below) of the exciting new listings in the 2020 Scott Specialized Catalog of the 1928 Fourth Bureau Stamps printed on Booklet Paper. This has been a decade long effort by Bob and we congratulate him. After a brief Q&A on current copyright law with respect to digital images of prior-owned collections and use in the public domain, the Gathering retired to the Iron Hill Brewery to continue the dynamic discussion.


1928 Fourth Bureaus on Special Booklet Paper, by Robert G. Rufe, Governor, U.S Stamp Society, 2019.

###
2019-09-21: Our September meeting was hosted by Bill Schultz with 18 members and guests present. Ellen Enslow of the CCHS advised us that effective September 24 we could vote online for an opportunity to obtain funds to help the Society undertake needed roof repairs. Charles DiComo announced 33 members were in the Gathering and a new one, Jean Woods from the Brandywine Valley Stamp Club joined today, making the total 34. Alan Warren read the minutes from the August 17 meeting. Tom Geiger spoke about "U.S. Private Perforations" using his 1-cent Franklin Sc. #314 imperf issue as the basis. This was his Part 2 presentation as he spoke about the Sc. #300 stamp itself in May. He also had a Schermack vending machine on display. Alan Warren presented a program about the U.S. 1933 Byrd Antarctic stamp—pre-production essays and die proofs, printing anomalies, first day covers, and non-first day uses of the stamp. In the open discussion session, Alan mentioned the "philatelic crime" that was committed when collectors and exhibitors sell their collections, and their years of research notes or page write-ups are lost. He urged everyone to prepare PDFs of their collections with notes or their exhibits and to place them with philatelic libraries such as the American Philatelic Research Library. This way other collectors can benefit from your studies. Several other philatelic sites that displayed exhibits were also mentioned. The Gathering retired to the Iron Hill Brewery for lunch. Write-up: A. Warren; Photo's: C. DiComo. Click for Agenda.


The U.S. 1933 Byrd Antarctic Issue, by Alan Warren, RDP, 2019.


"The Benjamin Franklin U.S. One Cent Green Stamp: The Private Perforation Story", by Thomas Geiger, 2019.

###
2019-08-17: Our sixth meeting was hosted by Bill Schultz. 17 members and guests were present and coffee and donuts were supplied by Bill DeWitt. Ron Majors (pictured at left) spoke on two topics.

First he pointed out his interest in the cents decimal issues of Canada that he collects. He then launched into a display of mourning covers. The width of the black border decreases with time from the date of death. He showed cross-border covers from Canada to the USA and also destinations overseas including Ireland and England. His second subject was the early turned covers of Canada. The method helped save money and also was useful when paper was scarce. He showed drop letters, one franked with a decimal issue on one side and stampless on the other. A 1-cent circular rate turned cover contained a 5-cent stamp. An 1870 cover was franked with a large queen. Bills of lading and bank drafts were used to create turned covers. A Civil War adversity cover was made from wallpaper. Bill Schultz concluded the meeting with a display of pages from his picture postcard exhibit on toll houses and toll gates. The exhibit earned the Research Award on one outing. Members retired to Iron Hill Brewery for lunch. Photo's/write-up: A. Warren.


"Death Through the Letterbox: Early Canadian Mourning Covers", by Ron Majors, 2019.


"Early Canadian Turned Covers (And Beyond)", by Ron Majors, 2019.

###
2019-07-20: Our fifth meeting was hosted by Bob Rufe. After the minutes were read by Alan Warren from the June meeting, Richard Colberg shared with the attendees his Moline Plow Company Advertising Covers in a round table session, where all could observe and study each cover. AV gremlins prevented our second speaker Alan Warren, RDP from presenting on "The U.S. 1933 Byrd Antarctic Issue: Production, First Day and Other Uses." He has agreed to present at a later date. General conversation and APS Summer Seminar dialogue easily filled remaining time! And an enjoyable lunch was had at the Iron Hill Brewery. See everyone in August! Agenda

HERE.
###
2019-06-15: Our fourth Gathering was hosted by preeminent, award-winning postal historian Mark Schwartz. Dr. Charles J. DiComo read the website and membership report, while Alan Warren, recent Royal Fellow of Philately recipient, read the minutes from our May meeting. Mark then introduced our two speakers – whose biographies are nothing but exemplary. Dr. Gus Spector spoke first on "The Great Central Fair of 1864", while Edward Siskin followed with his presentation on "Free Franks" from all the signers of the Declaration of Independence. There was an excellent Q&A session, followed by a short open discussion by Bill Schultz on "Single vs. Multi-Frames Exhibiting" and the recent changes to the rules to allow for more open displays and exhibits. Agenda

HERE. Photo's/write-up: DiComo.


"Free Franks", by Edward & Jean Siskin, Released to Public Domain, 2019.


"The Great Central Fair", by Dr. Gus Spector, 2019.

###
2019-05-25:
Our third Gathering was hosted by Dr. Charles J. DiComo, President of both the Philatelic Society of Lancaster County and Empire State Postal History Society, a USPCS Life Member and Editor-in-Chief of the
Chairman's Chatter
. Ellen E. Endslow opened the meeting to 20+ attendees by highlighting upcoming exhibits and events at the Chester County Historical Society. Kean Spencer then shared his complete collection of Canal Zone stamps and postal stationery in a 2 frame display, along with the dynamic history of the region and stamp production and delivery. Thomas Geiger then shared a PowerPoint presentation on his award-winning Exhibit of U.S. 1 Cent Franklin Scott #300, along with a 2 frame display – this was an era of change and experimentation and Scott #300 was a work horse. Bill Schultz ended the session with an open discussion on two new research projects, the preparing a census of the
6 1/4
"phantom" or "convenience" rate from the stampless era, along with the rare
16 1/2
rate (12 1/2 inland fee + 4 Ship Fee) from a nine year period in the 1790's. Bill distributed a few recently discovered examples and requested the attendees to share any they may possess. Agenda

HERE
. Photo's/write-up: DiComo.

"The Benjamin Franklin U.S. One Cent Green Stamp of 1902"
, by Thomas Geiger, 2019.
###
2019-04-27:
Noted postal historian, exhibitor, judge, and author Bill Schultz hosted our second Gathering, which included two diverse speakers: Dr. Paul Pitcher on the "Introduction to Aviation Pioneering on Postally Used Postcards"; and Bill Schultz' Single Frame Exhibit on "Fort Delaware POW Prison 1862-1865". This was followed by an open discussion on the "Importance in Collecting/Exhibiting." Agenda

HERE
. Write-up: DiComo.

Aviation Pioneering on Postcards, Part I – Beginnings
, by Paul Pitcher.
###
2019-03-23: Noted philatelist Kean Spencer hosted our inaugural meeting of The Philatelic Gathering. The agenda included three diverse speakers: Mark Schwartz on "Special Arrangement between the U.S. & Liverpool from 1843-1848"; Bill Schultz on "Dining Car Postcards"; and Vince Costello on "Fancy Cancels" along with 3 displays. Agenda

HERE. Photo's/write-up: DiComo.

---
Article in the American Philatelist
In the May 2019 American Philatelist, Ken Martin, COO of the American Philatelic Society, penned an article mentioning our very own Bill Schultz and the formation and mission of our Philatelic Gathering. We thank Ken for the recognition in his Philatelic Happenings section of the AP! Click the image below to enlarge.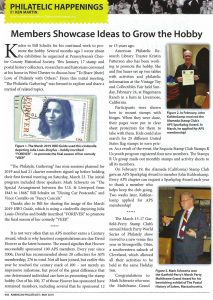 Those attending the Philatelic Gathering have shared that each meeting "…has been enlightening and inspiring, especially since there is such a range of interest and levels of expertise." Why not join us today?
---
Topics for the First Three Years of Meetings
N.B. These topics are not cast in stone, but gives an initial place to begin our thinking and planning. As we check one off, we add one to the list… always keeping 27 ideas on the list.
1.  Past, Present & Future of Philately
2.  Why, Why Not Postal History?
3.  Paper Restoration and Why
4.  Use of Research Libraries (CCHS, APRL, etc.)
5.  New, Older Exhibiting Techniques
6.  What About Philatelic Importance
7.  Collecting Topical & Thematic
8.  Postcard Collecting & Exhibiting
9.  Estate Valuation Concerns
10.  Why We Collect (Is it Genetics?)
11.  The Joys & Sorrows of Philately
12.  First Day Cover Collecting & Exhibiting
13.  My Favorite Cover and/or Stamp
14.  Tell A Philatelic (but) Brief Story
15.  The Collector, Dealer Relationships
16.  Writing Philatelic Articles
17.  Revenues & Back of the Book (BOB)
18.  The Bonds & Friendships of Philately
19.  Buying & Selling – Do's and Don'ts
20.  Postal Routes, Markings & Rates
21.  Transatlantic Mails
22.  Civil War & Patriotic Covers
23.  How Can We Help Each Other
24.  Errors, Freaks & Oddities (EFO)
25.  Forgeries & Expertization
26.  Selecting Subject to Exhibit
27.  What Societies Should I Join?
---
Charter Members
The Charter Members of this group (order determined by lottery), with primary areas of oversight are as follows:
| | | | |
| --- | --- | --- | --- |
| # | NAME | E-Mail | Chair | Advisor | Consultant | Liaison |
| 1 | Dr. Paul Pitcher | pigdoc@kennett.net | Berks County and Railroads |
| 2 | Norm Shachat | nshachat@msn.com | Montgomery & Philadelphia Counties |
| 3 | Kean Spencer | keanwspencer1@gmail.com | U.S. Stamps |
| 4 | David Dewsnap | dgdewsnap@verizon.net | Stamp Collecting |
| 5 | Dr. Charles J. DiComo | charles.dicomo@gmail.com | U.S. Classics, Stampless & Lancaster County |
| 6 | Pam Gray | pag172@aol.com | Chester County History & League of Women Voters |
| 7 | Bill Schultz | bill@patriciaschultz.com | Postal History & AAPE |
| 8 | Ellen E. Endslow | eendslow@chestercohistorical.org | CCHS Liaison |
| 9 | | | |
| 10 | Mark Schwartz | mark.schwartz1@verizon.net | APS & British/Colonial Postal History |
| 11 | Ron Majors | ronald.e.majors@gmail.com | Civil War & BNAPS |
| 12 | Robert Rufe | Rrufe1@aol.com | Area Stamp Clubs; United States Stamp Society |
| 13 | Dr. Gus Spector | gspec56@aol.com | Illustrated Mail & PA Postal History Society |
| 14 | Alan Warren | alanwar@comcast.net | Editorial, First Day Covers; AFDCS & Polar Society |
| 15 | John Howker | johnhowker@aol.com | Delaware & Northern Maryland |
| 16 | Vince Costello | vinman2119@aol.com | Fancy Cancels & Postal Markings |
| 17 | Michael Peich | mpeich12@gmail.com | Sports History & Baseball on Covers |
| 18 | Richard Colberg | appraisestamps@gmail.com | Lititz (PA.) PH, France & Canada RPO's, Baltimore Carrier Stamps |
| 19 | Dr. William J. DeWitt, III | Bill@DeWitt.com | Transportation on U.S. Stamps |
| 20 | Lou DiFelice | LouDiFelice@gmail.com | Classic U.S. Stamps & Postal History |
| 21 | Thomas Geiger, CFM | modlcitizn@aol.com | U.S. 1c Franklin Issue 1903 & N.J. Postcards |
| 22 | Hal Klein | HalKlein@comcast.net | U.S. Banknotes, Lebanon Co. PH, Overrun Countries & Prexies |
| 23 | Gene Fricks | GeneFricks@comcast.net | Advertising & Illustrated Mail, Direct Mail, PH of Portugal & Airmail Rates |
| 24 | Ed Siskin | JeanAndEd@comcast.net | Colonial Mail, 3c 1851 Issue, N.J. Free Franks & Postal History |
Invited Members
---