Philatelic Society of Lancaster County
---
---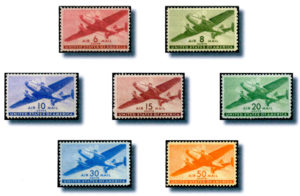 Exhibit: The United States Transport Airmail Issue 1941-44, by Hal Klein
The U.S. Transport Airmail Issue of 1941-44 saw its heaviest use during the WWII period, with the 6 Cent Military Mail playing a large role in the history of this issue. Stocks of these stamps were available for purchase at post offices through the mid-1950s.
President Roosevelt signed a law on 13 December 1941 allowing for a "concessionary" rate of 6 cents per 1/2 oz. for mail to and from service personnel serving overseas. The rate cane in to force 25 December 1041. This rate was extended to civilian contractors and Allied forces serving alongside America forces. Mail had to be handled by a Military Post Office unit within an Army Post Office (APO), Fleet Post Office (FPO) or Allied Forces Unit (usually Canadian or British) connected to an APO/FPO to be eligible for this rate.
International airmail rates were complex during this period. Rate confusion was solved when "Uniform" international airmail rates were introduced on 1 November 1946. This Exhibition illustrates rates and uses of the 1941-44 Transport Airmail Issue between 1941 and 1957.
[3d-flip-book mode="fullscreen" id="16400″ ][/3d-flip-book]
---
---

The United States Transport Airmail Issue 1941-44 (9MB)