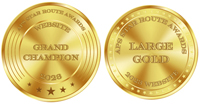 Philatelic Society of Lancaster County
---
History
"The Philatelic Society of Lancaster County was formally organized May 20, 1938 in the law offices of Robert Ruppin, Room Number 514 in the Fulton National Bank Building, Lancaster, Pennsylvania. Immediately an application was filed for chapter membership in the American Philatelic Society, and on August 1, 1938, the Society became the James Buchanan Chapter Number 173 of the American Philatelic Society."
"From its inception the Society has made an effort to attract members of the highest type so that the membership will always be a body of mature men and women of high character, all interested in actively promoting the interests and welfare of Philately." The above two paragraphs quoted from a 1942 Membership Prospectus is one of the few remaining historical documents of the early years of the Society. Fortunately the Society has endured better than its archive. Stamp collecting in Lancaster County was an active hobby in 1942 as is it today.
The Lancaster Stamp Club organized in 1923 was still active in 1938 when the PSLC was organized. The John Wise Airmail Society and the Peter Miller Stamp Club of Ephrata were also active. Gradually the Lancaster Stamp Club and the Philatelic Society of Lancaster County integrated into one club. The two clubs have provided 65 years of continuous philately to Lancaster County.
---
---
From the Archives
What follows is a sampling of items from our archive. Check back often. If you have an item(s) to contribute, we would like to hear from you. Contact Dr. Charles J. DiComo. Click to enlarge for a closer inspection.
Lancaster County Mailer's Postmark #1
The Society is grateful to Bob Kotanchik, Karl Kotanchik, and Jen (Kotanchik) Perot for their generous donations to the PSLC archives of the first mailer's postmark that was approved for use in Lancaster, along with a postcard using the handstamp mailed to Jen while she was living in England. This permit and mailers postmark (#1) was originally issued to Karl in 1980, with its first day of use 4 JAN 1980. An amazing piece of Lancaster County postal history and we thank them all for preserving and allowing us to showcase.

Lancaster Stamp Club Banquet Brochure
Shown is an original Lancaster Stamp Club Third Annual Banquet brochure donated to the archive by James H. Ziogas. It was held at the Malta Temple on East King Street in Lancaster on January 8th, 1934. The program consisted of a toast by Rev. H.G. Hartman, an invocation by Rev. Charles Berghaus, a welcome by President Edgar Worrest, and an address by Robert H. Davis of the Lansdowne Stamp Club on "Plating Norway No. 4". Take a look at the dinner menu, with philatelic choices… A great piece of Society history.

Tweed – Founding Member of LSC
This newspaper clipping and envelope/enclosure was donated by member Ron Tweed PSLC#457. His father was a Lancaster Stamp Club (LSC) founding member.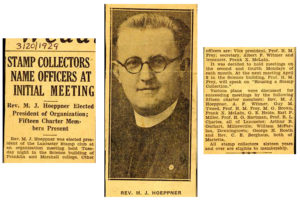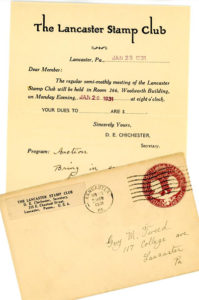 Lancaster Stamp Club Ephemera
Enjoy the following items from our predecessor Society. Click any image to enlarge in a new tab.
From Left-Right, Top-Bottom: (1) First Flight Lancaster, PA by Airmail Pickup and Delivery System, Lancaster Stamp Club, circa 1937; (2) Lancaster Stamp Club Invitation to Join the Club, at Woolworth Building, Lancaster PA, Dues $1.00 per year; (3) The Lancaster Stamp Club Stationery and Membership application, with dues at $1.00, circa 1938; (4) Lancaster Stamp Club By-Laws Section 2, Article 2, Dues, circa 1935; (5) Homemade Envelope mailed from Lancaster Member to Lancaster Stamp Club, 1936; (6) Philatelic Exhibition sponsored by the Lancaster Stamp Club, Lancaster PA. November 1937. Robert Warren received First Award for Exhibit of China Clipper Covers; (7) Letter in cover dated same, October 9 1931, addressed to LSC member regarding regular semi-monthly meeting at Woolworth Building, Room 266, Monday evening, October 12, 8 o'clock. Program: Talk by Stanley Rose on minor varieties, "has some rare stamps and is a good talker." Associated cover in database from Lancaster Stamp Club, Scott #632 pair mailed from Safe Harbor PA, 9 October 1931 with LSC corner card from D.E. Chichester, Secretary.
---
---