Philatelic Society of Lancaster County
---
History
"The Philatelic Society of Lancaster County was formally organized May 20, 1938 in the law offices of Robert Ruppin, Room Number 514 in the Fulton National Bank Building, Lancaster, Pennsylvania. Immediately an application was filed for chapter membership in the American Philatelic Society, and on August 1, 1938, the Society became the James Buchanan Chapter Number 173 of the American Philatelic Society."
"From its inception the Society has made an effort to attract members of the highest type so that the membership will always be a body of mature men and women of high character, all interested in actively promoting the interests and welfare of Philately."
The above two paragraphs quoted from a 1942 Membership Prospectus is one of the few remaining historical documents of the early years of the Society. Fortunately the Society has endured better than its archive. Stamp collecting in Lancaster County was an active hobby in 1942 as is it today.
The Lancaster Stamp Club organized in 1923 was still active in 1938 when the PSLC was organized. The John Wise Airmail Society and the Peter Miller Stamp Club of Ephrata were also active. Gradually the Lancaster Stamp Club and the Philatelic Society of Lancaster County integrated into one club. The two clubs have provided 65 years of continuous philately to Lancaster County.
---
---
From the Archives
What follows is a sampling of items from our archive. Check back often. If you have an item(s) to contribute, we would like to hear from you. Contact Dr. Charles J. DiComo. Click to enlarge for a closer inspection.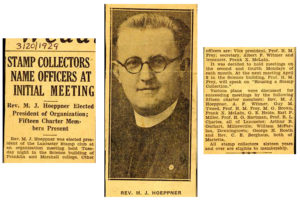 This is an original Lancaster Stamp Club Third Annual Banquet brochure donated to the archive by James H. Ziogas. It was held at the Malta Temple on East King Street in Lancaster on January 8th, 1934. The program consisted of a toast by Rev. H.G. Hartman, an invocation by Rev. Charles Berghaus, a welcome by President Edgar Worrest, and an address by Robert H. Davis of the Lansdowne Stamp Club on "Plating Norway No. 4". Take a look at the dinner menu, with philatelic choices… A great piece of Society history.