Philatelic Society of Lancaster County
---
---
Exhibit: History of the DC-4 SkyMaster Plane Design Used on United States Airmail Postal Material, by Thomas Nichols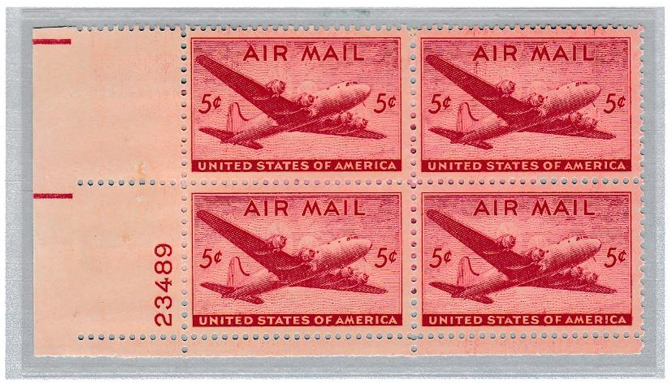 We are very pleased to bring you J. Thomas Nichols Exhibition on the History of the DC-4 SkyMaster Plane Design Used on United States Airmail Postal Material. The exhibit chronicles the image of the DC-4 SkyMaster military transport used in the design of one of the longest running series of airmail stamps and stationery ever issued in U.S. postal history. Enjoy!
[3d-flip-book mode="fullscreen" urlparam="fb3d-page" id="15891″ title="false"][/3d-flip-book]

History of the DC-4 SkyMaster Plane Design
Moreover, the Society is pleased to announce that Tom has made his 2020 publication entitled "DC-4 SkyMaster Airmail Postal Material 1946 thru 1958" available for your reading pleasure.
PREFACE: I started collecting worldwide stamps at an early age and in my early forties began focusing on mint United States stamps. But it wasn't until I retired that I became an avid collector of United States postal material from the 1940s. I choose the 1940s for two reasons: it was the period of world history that most interested me and there was still a wide range of material that could be collected at a nominal cost. The fact that I was born in the 1940s also played a part in my decision. The wide range and variety of postal materials using the DC-4 SkyMaster image—everything from single stamps, special issued covers, air letters, stationary envelopes and the first U.S. Airmail coil stamp—became a special interest that led to the creation of this illustrated publication. It is hoped that this publication might inspire others in their philatelic pursuits to begin collecting postal material of their favorite time period or that deals with a favorite subject.

"DC-4 SkyMaster Airmail Postal Material 1946 thru 1958", An illustrated history of the DC- 4 SkyMaster aircraft design used on United States Airmail postal material between 1946 and 1958, by J. Thomas Nichols, First Edition, 2020.