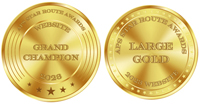 Philatelic Society of Lancaster County
---
---
Miscellany
This section affords the opportunity for philatelic sharing of any kind. This is where you can be creative and pull from your favorite non-traditional topics – the lighter side. The contents remain the property of the author/submitter where appropriate. If you have something you think would be of interest, please contact Charles J. DiComo, PhD. Enjoy!
---
The Essential Tools of Philately
What follows are example of the essential tools of philately – those items any serious stamp and postal history collector should have in their "stamp den" to manipulate, analyze, repair and store their collections. Remember we are only the temporary custodians of these objects, and caring and preserving them for future generations is vital. If you have something you think would be of interest, please contact Charles J. DiComo, PhD. Enjoy!
---
The Importance of Historic & Philatelic Accuracy
In September 2018, President Charles J. DiComo, PhD was contacted by Leonie Tucker, a graphic designer in the United Kingdom, looking for assistance with a project. She wanted to be historically accurate in her prop design for a television drama she was working on called "Hetty Feather."
Her email read: ​Dear sir, ​I wonder if you could help me.​ ​I'm working on an English children's drama called "Hetty Feather" which is set in the summer of 1890.​ ​I have to ​create a period envelope that Hetty​'​s friend from New York has sent her.​ ​My question is, do you have any reference images of what the stamps used to send such a letter from America to England, would look like? Would it be any old envelope or a specific one for posting over seas? Leonie ​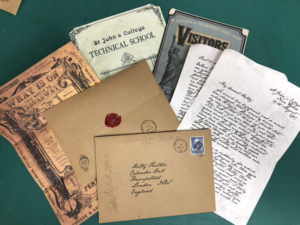 Click to Enlarge
Charles sent her examples from his collection of stamped envelopes with letters being sent from New York to London in the 1890's, along with representative stamps, rates, etc. Above is the product of Leonie's work – very accurate – she even incorporated a red wax seal along with other ephemera. We are very pleased to have assisted in ensuring philatelic and historic accuracy.
---
Vintage Wax Seal Stamps
These devices are vintage wax seal stamps. They were used to seal an envelope flap to prevent tampering after melting hot wax on the flap. The crosshatched grill-like pattern device is from the 1850's. The "WARD 2" device is from the early 19th century. The handles are crafted from wood and end piece from brass. From the collection of Dr. Charles J. DiComo.
---
Albany, NY Duplex Patent Cancelling Device, Reproduction c. 1920
This is a modern day reproduction (circa 1920's) of a duplex, circular date stamp (CDS) from Albany, NY MAR 11th-dated, with patent killer which would cut a small circle in the stamp it cancelled to prevent re-use. This type of device was utilized in the 1860's.
This is mounted on a wood block and is an exact match to the Figure 2 example shown in the Scott Specialized Catalog of U.S. Stamps and Covers – Introduction section in patent defacing cancellations. Most likely fabricated for Scott's illustration in their catalog. From the collection of Dr. Charles J. DiComo.
---
Philatelic Folk Art
The roller-ink Tornado Pen shown below is from the Dr. Charles J. DiComo collection of "Stamps on Objects". It is made by Retro 51 and depicts classic postage stamps from Switzerland, Hungary, Finland and the United States. A fine quality writing implement for the stamp enthusiast.
Click to Enlarge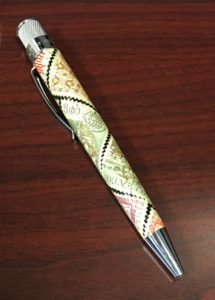 Click to Enlarge
###
Bill Schultz was kind enough to share this fantastic table that Janice Earley covered in stamps a few years ago. They were stamps her grandmother had collected for her. A great memento.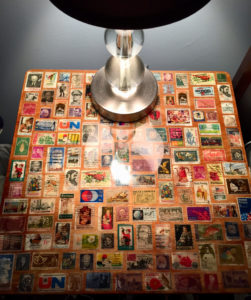 Click to Enlarge
---
Letterlocking
Letterlocking refers to the process by which a substrate such as paper, parchment, or papyrus has been folded and secured shut to function as its own envelope. It is part of a 10,000 year-old information security tradition, variations of which have been used in cultures throughout the world. The following links will shed light on this practice. Enjoy!
Click to Enlarge

Historic Letterlocking: The Art and Security of Letter Writing, by Jana Dambrogio.
Before Envelopes, People Protected Messages With Letterlocking, by Abigal Cain.
The art and science of letterlocking , by Heather Denny.
Dictionary of Letterlocking by Jana Dambrogio, Daniel Starza Smith, et al. 2016. Dictionary of Letterlocking (DoLL).
---
Lexophilia & Puns
One of our longtime members shared the PDFs below, if you have a love of words, and need a good laugh – Enjoy!

Lexophilia – Ya Gotta Love It, 2018

Puns for Educated Minds, 2018

The Philosophy of Ambiguity – Idiosyncracies of English, 2019
---
Lesser Known Pivotal Moments in History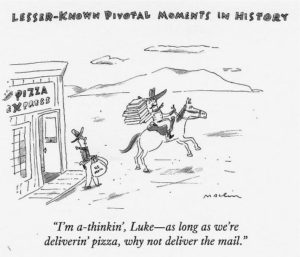 Click to Enlarge
---
Philatelic-related Videos
What follows are links to videos posted on external sites related to philately, stamp and postal history collecting, How To's, etc. Enjoy.
How NYC stamp collectors stick together in a digital age, By Michael Scotto, NY1 Spectrum News, June 22, 2018.
---
Philatelic Works
What follows is a collection of historical philatelic periodicals, publications and ephemera related to the Philatelic Society of Lancaster County and the surrounding region, and beyond.