Philatelic Society of Lancaster County
---
AWARDS & HONORS
This page recognizes our Members and friends who have over the years received Awards and/or Honors for their dedication, commitment, authorship and leadership to the mission of the Philatelic Society of Lancaster County and philately in general.
---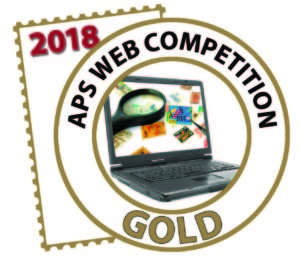 APS Website Competition Award
The Society has been awarded a Gold in the 2018 American Philatelic Society (APS) Website Award Competition. This award recognizes website excellence. Four experienced judges from across the country following a rigorous vetting process made the determination, along with suggestions for continually improving our web presence. We are grateful and honored and have proudly posted the Gold Award badge on our home page. A certificate signed by the President and Secretary of the American Philatelic Society recognizing this great work by Dr. Charles J. DiComo was mailed to the APS representative of our Society. This award exemplifies the very best that is happening out in the local stamp and postal history communities. For more info, visit the
American Philatelic Society
Click to Enlarge

The January 7, 2019 Issue of Linn's Stamp News contained an article by William F. Sharpe in the Computers and Stamps section announcing the winners in the APS philatelic website competition. The Philatelic Society of Lancaster County was prominently featured and we thank Bill for this. The entire article is below as a PDF. Enjoy!

"Winners in Philatelic Website Competition," pg. 22, Linn's Stamp News, Jan. 7, 2019

"Winners in Philatelic Website Competition," pg. 23, Linn's Stamp News, Jan. 7, 2019
---
APS Newsletter Recognition Award
American Philatelic Society 2017 Gold Medal for PSLC Newsletter, Dr. Paul Petersen, Editor
American Philatelic Society 2016 Gold Medal for PSLC Newsletter, Dr. Paul Petersen, Editor
American Philatelic Society 2015 Gold Medal for PSLC Newsletter, Dr. Paul Petersen, Editor
American Philatelic Society 2014 Gold Medal for PSLC Newsletter, Dr. Paul Petersen, Editor
American Philatelic Society 2013 Gold Medal for PSLC Newsletter, Dr. Paul Petersen, Editor
American Philatelic Society 2012 Gold Medal for PSLC Newsletter, Dr. Paul Petersen, Editor
American Philatelic Society 2011 Gold Medal for PSLC Newsletter, Dr. Paul Petersen, Editor
American Philatelic Society 2010 Vermeil Medal for PSLC Newsletter, Dr. Paul Petersen, Editor
---
APS Articles of Distinction Award
The APS has established the Articles of Distinction for our Chapters and Affiliates to honor their authors by hosting an annual "best article" competition and submitting the winning article for all to enjoy. In addition to awarding authors, this allows the APS to provide exposure to groups, encourage philatelic writing, and sharing these wonderful articles with the membership. For more info, visit the
American Philatelic Society
APS 2017 Articles of Distinction, for A Piece of Postal History – 70 Years Later, by Hal Klein
APS 2016 Articles of Distinction, for The Pennsylvania Philatelist Zip Codes, 1963 and 1964, by Hal Klein
---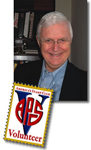 Nicholas G. Carter APS Volunteer Recognition Award
This Award is given to recognize the outstanding efforts of the APS volunteers at national and local levels; and to recognize our younger members whose outstanding leadership is crucial to our future. The awards have been named in memory of Nick Carter who helped to establish them. Nick felt it was important to recognize those unsung heroes who contribute their talents, time and energies to benefit stamp collecting and the Society. For more info, visit the
American Philatelic Society
---

APS Spark Plug Award
This Award is given to recognize positive achievement of benefit to the presenting APS Chapter. Every club must have at least one member who does for the club what spark-plugs do to engines. The certificate may be presented to an individual or an organization. For more info, visit the
American Philatelic Society
2017 – Dr. Charles J. DiComo